Thanks to
Sherry
I get to know this giveaway. I hope to win
Konad "B" Kit giveaway
because my nephew loves to play with her nails too. We could have fun together doing this. Konad is so easy to use just look at the video you will know.
I do not have everything with me so below is my creation!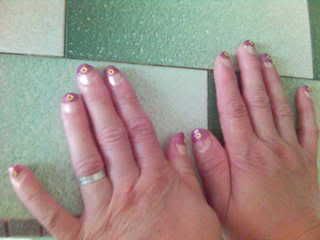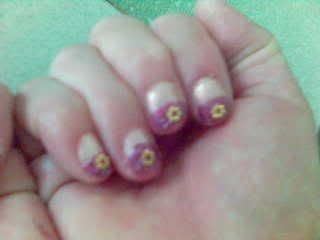 I like their stam print, if you like Konad, check out
http://konaddict.blogspot.com/
. I bet my nephew will become an addict if she sees this.
Image from

Konad

website.
The B Kit includes
* 4 Image Plates
* 3 Special Polishes (11 mL / 0.35 Fl.Oz)
* 1 Stamp
* 1 Scraper
Image Plates: M4, M8, M15, M21
Special Polish: White, Red, Green
Here is a closer look at the plates included.
I am going to follow
http://konaddict.blogspot.com/
This giveaway going to ends on 5 Aug, 2009. So everyone hop over and take part now!